SOLD OUT - BMB DAR-200HD 400W 2-Channel Karaoke Mixing Amplifier with HDMI/Optical/BluetoothNEW!! BMB DAR-200HD 400W 2-Channel Karaoke Mixing Amplifier with HDMI/Optical/Bluetooth (Just Launched in October 2023)
---
---
---
This is a genuine BMB, Best Music Brand, product. BMB is a top manufacturer originating from Japan. The new BMB DAR HD series is the newest standard in sounding amplifiers available for karaoke. The new DAR-200HD can power up to 2 speakers with up to 400W (RMS) of power. This machine has been rigorously tested for quality and can play many hours reliably easily making the DAR-200HD perfect for karaoke venues. With simple connections like the HDMI and the Optical inputs, the DAR-200HD can be setup for Youtube karaoke. This advanced system will make sure your audio comes through flawlessly. Best when paired with a set of BMB speakers matched for the DAR-200HD's power level.
This BMB Digital Amplifier has more than 5 kinds of sound effects including standard POPULAR, PRO, ROCK, THEATER, or CUSTOM
Howling Control Function (Feedback Elimilator)
One of the main functions of this BMB Amplifier is to effectively inhibit howling, protect speakers, and enhance smooth sound when you are singing.
13 Procedure Sandhi degrees Plus or Minus 3.0 Audio Functions
This BMB amplifier has a 13 procedure sandhi degrees plus or minus 3.0 audio function. It increases the range treble and bass can be adjusted.
Voice Conversion Function
BMB Digital Amplifier with voice conversion function changes the male and female voices to compliment one another which greatly enhances karaoke recreationality.
PC Editor
This allows YOU to be in control of the BMB DAR-200HD. When you connect your DAR-200HD to a laptop through RS-232 port (cable not included), you will have access to all the fine tuning available to this mixing amplifier from the Mic EQ to Music EQ and everything in between.
Dual Bluetooth
Allows Bluetooth connection from two different smart devices.
HDMI Ports (2-in and 1-out w/ARC)
Connects to HDMI devices like the Karaoke Machine, Gaming Console and many more. With the ARC function, even your TV audio can be output through DAR-200HD.
Optical Port
Enables you to transform your Smart TV into Smart Karaoke
iOS and Android App
Download the application on your smart device and control your DAR-200HD right in the palm of your hands.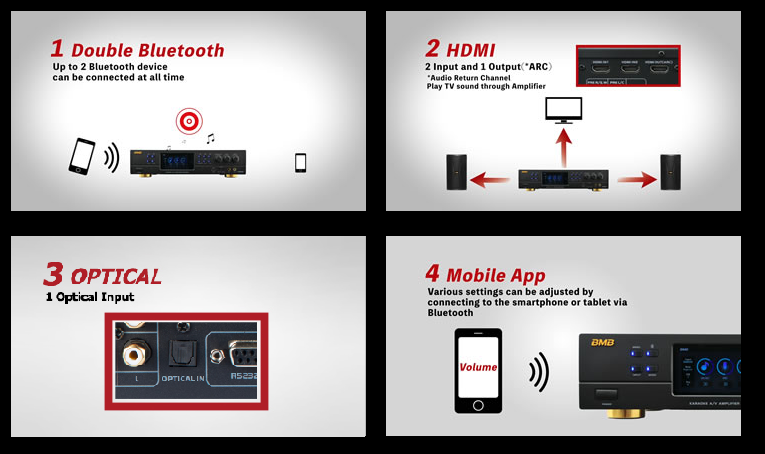 Features:
Music Tone Controls
Background Music (BGM) Volume Adjustment
L-R Balance
Tape Volume Adjustment
Recording Balance - Adjust between music and microphone volume
Rec/Play Mode On/Off Switch
Microphone 3 Echo On/Off Switch. Perfect for Announcements
Balance between SP 1-2
Microphone Tone Controls with Echo Select
Echo Controls
Specifications:
Continuous Output Power:
Program Output Power:
Peak Output Power:
Main Pitch Degree: 13 degrees � 3.0 DSP
Audio Input: 4 Systems

KARAOKE
AUX
Bluetooth
Optical

HDMI Input: 2 Systems
Mic Input: 4 Total
Optical Input: 1 port (for autio only)
Audio Output: 1 system (RCA) L/R (Can be switched to pre-out/subwoofer out)
HDMI Output: 1 system (with ARC function)
Equalizer:

5 bands Music
12 bands Mic
6 bands Output L/R

Echo: Delay, Reverb
FBE (Anti-Feedback): 5 levels/OFF
LCD Display: 4.3 inch TFT Color LCD
AC Input:
Dimensions(mm): 420 (W) x 102 (H) x 290 (D)
Weight: 10.5 kg or 23.1 lbs
Remote Control (RMR-350): One included with the unit
---
 Download Instruction Manual
Arabic
Simplified Chinese
Indonesian
Korean
Malaysian
Spanish
Russian
Thai
Vietnamese
***Guarantee In Stock, Will Ship The Same Day*** ---> With 1 Year Warranty 
FREE GROUND SHIPPING ON ALL ORDERS !
NO SALE TAX OUTSIDE CALIFORNIA !
WE GUARANTEE OUR PRICE IS LOWEST ONLINE
WE WILL BEAT OR MATCH ANY LEGITIMATE PRICE